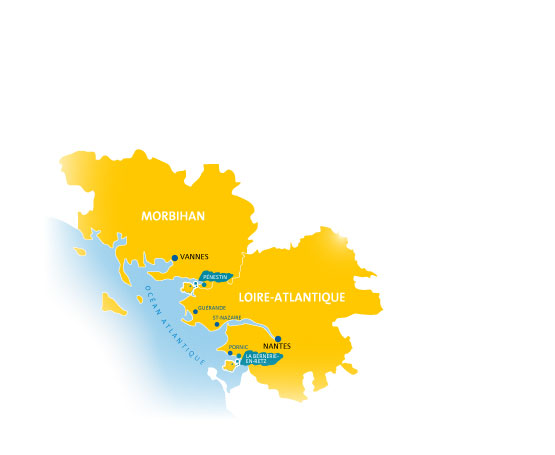 From the Gulf of Morbihan to the Regional Park of Brière, from the ramparts of Guérande to the Chateau of the Dukes of Brittany, in South Brittany you are sure to experience an amazing holiday ! Brimming with history, bounded by the sea, South Brittany is exploding with culture that is very much rooted in the 21st century. Treat yourself to a trip to Belle-île-en-Mer (the aptly named Beautiful Island on the Sea), or to a day in La Baule on the largest beach in Europe, or a paragliding tandem at the 'Mine d'Or' in Penestin, or even the «Voyage à Nantes» for a visit to Brittany's former capital… There's something for everyone !
Brittany, a unique experience in the heart of nature
Discover the salt marshes of Guerande: 5 minutes by car and 20 minutes by bike from the campsite Les Iles .
The Guerande peninsula opens the gates of the salt marshes.
Discover the Gulf of Morbihan !
What to do ?
The typical village of Kerhinet,
The Regional Nature Reserve,
Marais de Brière,
Pierre Constant Site, thatched cottages,
The bride house.
BRIÈRE REGIONAL NATURE PARK