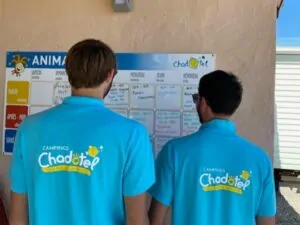 In the campsites in vendee & South Brittany
A campsite, in the summer, and no entertainment ?!
At Chadotel this is simply impossible ! Summer is the period when there is a maximum of activities set up, whether for adults or children. A mini-club is available for the youngest ones, allowing them to make friends for the duration of the holidays or longer. And for the adults, we offer activities that will give them plenty of memories.
For the little ones, the mini-club offers physical activities, they have fun and when they come home in the evening they are calm, so everyone wins. On some days, the activities are calmer and use  their creativity by doing manual activities. The advantage is that the children can take their creations home as a "home-made" souvenir
For the adults, sports activities are also offered, so you don't feel guilty about not paying attention to your diet, you can let yourself go ! On the other hand, there are no manual activities on the programme, but rather animations such as karaoke, aperitif games… some reflection will be required. Of course, nothing is compulsory except having a good time.