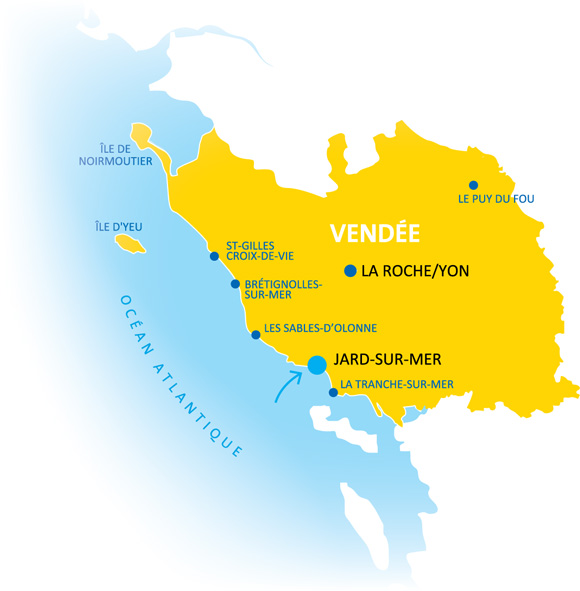 For a perfect family holiday destination, the Vendée has it all: with land and ocean, the Vendée offers a wide variety of activities to suit everyone.
Rich with a generous cultural heritage (the award-winning historical theme park Puy du Fou), the Vendée also knows how to combine gastronomic pleasures with the joy of outdoor fun. From the islands of Yeu or Noirmoutier to the 100,000 hectares of canals in the Marais Poitevin, enjoy the sunshine that has given the Vendée the name «Côte de Lumière», Coast of Light. Take your pick of the 140 km of fine sandy beaches.
La Vendée, a unique experience in the heart of nature
The Puy du Fou is located north of the Vendée in a little town called Les Epesses. It is a theme park for the whole family that relives the history of the Vendée through remarkable staging. 
Go through the famous and unique passage du Gois and enjoy the island of Noirmoutier with the family! Be seduced by the nature reserves, the salt marshes, walk through the bois de la Chaize or Eloux along the sea and go fishing at sea. 
The island of Noirmoutier
Ile d'Yeu is 17 km from the coast of the Vendée. You can discover the lighthouse de la petite foule, the Semaphor, the old castle, the fishing museum, the port of La Meule, the Pointe du But... 
The island of L'Ile d'Yeu