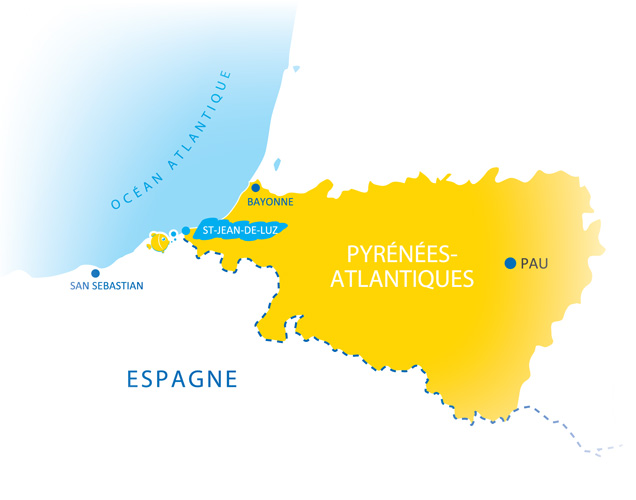 Welcome to the Basque Country
Between ocean and mountain, between France and Spain, the Basque Country seems not to want to choose. So, don't choose: treat yourself to the Basque Country's bounty! Visit the local villages all of which have a fronton where you can try your hand at one of the many varieties of the court sport, Basque Pelota. Which village do you prefer ? Saarland, Ascain, Aïnoh? You can enjoy water sports on the coast, but first, enjoy a slice of Basque cake while admiring the sunset in Saint-Jean-de-Luz on the Jacques-Thibaud pedestrian walkway. For a special treat, cross the border into Spain, you'll still be in the Basque Country !
The Basque Country, a unique experience a stone's throw from Spain
Sea trips, sailing, water skiing, surfing, paddle, canoeing, kayaking, diving, sea fishing
Between the sea and mountains you share pleasant moments with friends or family.  Go hiking, water activities; (jet ski, surf), cycling; cultural heritage, fishing, diving to the remarkable wrecks not to be missed (l'Union, l'Anjou, l'Aiglon, le Cruz Segundo, le Saint Sunniva ...). Go to the festivities in Bayonne or Pampelune !