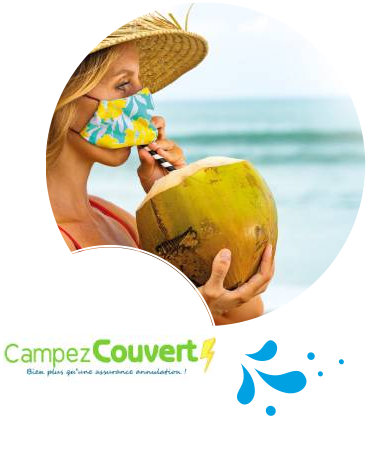 In partnership with the insurance leader, Gritchen Affinity Group, we recommend that you purchase cancellation and interruption insurance for only 3% of the amount of your reservation (excluding surcharges).
This insurance is valid from the time of booking until the end of your stay.
Without cancellation insurance, Chadotel will not grant any refund in case of cancellation of the stay or in case of no-show.
How do you take out the insurance?
You can only take out cancellation insurance when booking your holiday. On our website, you just need to select the option to add it. By mail, all you have to do is tick the "Cancellation insurance" box on the booking contract. By telephone you must indicate this to your reservation agent.
What does the insurance guarantee?
Serious illness, serious accident or death, including relapse, aggravation of a chronic or pre-existing illness, as well as the consequences, sequelae of an accident that occurred prior to the signing of the contract
Death
Contraindication and follow-up vaccination
Dismissal or Contractual Termination
Summons to a court
Call for adoption of a child
Call for a resit examination
Call for an organ transplant
Serious fire damage, explosion, water damage or damage caused by natural forces
Theft in your professional or private building
Serious damage to your car within 48 working hours preceding  the 1st day of stay
Obstruction from getting to the place of stay
Obtaining employment for a period of more than 6 months starting before or during the scheduled dates of stay
Your Divorce or Termination of Marital Relationship
Theft of your identity card, driver's license or passport within 5 working days before departure
Cancellation or change of the dates of your paid leave or those of your partner imposed by your employer
Professional transfer requiring a move
Visa refusal by the country's authorities
Natural disasters (within the meaning of Law No. 86-600 of July 13, 1986, as amended)
Illness requiring psychological or psychotherapeutic treatments, including nervous breakdowns
Cancellation of one of the persons accompanying you
Please note that, depending on the reason for your cancellation, you will be required to pay a 25% excess
Examples of coverage:
I am quarantined for COVID 19(test positive)
I want to cancel my trip because I have COVID 19 (hospitalization)
I want to cancel because a member of my family has (by definition) COVID 19 (hospitalization)
I would like to cancel my trip because I have been in contact with someone who is infected and have an obligation to isolate myself and take the COVID 19 test
I want to cancel my trip because I am sick and have been in contact with someone who is infected while waiting for my PCR test results
I want to cancel my trip because I am ill, my doctor confirms that I am not fit to travel and suspects that I have COVID (test is positive)
I want to cancel my trip because I have the COVID (positive test)
I want to cancel because a loved one is seriously ill from COVID(hospitalization / death)
I would like to cancel because I have been claimed by the authorities in the fight against COVID 19
Due to illness or contact, I will arrive  2 days (or more) late  at the place of stay
Refusal to board after raising of temperature
Examples that are not covered:
The borders are closed
State of health emergency
Quarantine and lockdown
Case of illness in the event of stay in a country formally advised against by his government
What to do in case of cancellation or delay of the stay?
In case of cancellation:
I will immediately notify the campsite of my cancellation of an event  that prevents my departure by email to info@chadotel.com
In case of interruption:
I pay for my entire stay at the campsite
I notify my early departure to the campsite
I submit my claim within 5 working days:
by Internet
by mail: Gritchen Affinity – service sinistres – 27 rue Charles Durand  – CS 70139 – 18021 BOURGES CEDEX FRANCE