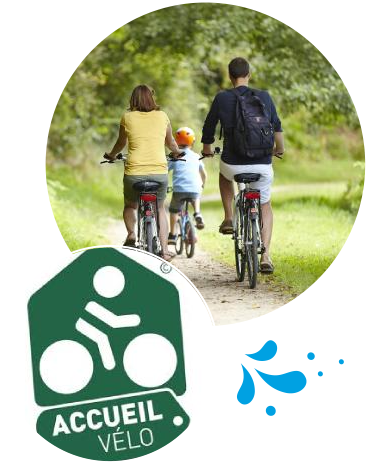 Cycling holiday in france
Cycling is a practical means of transport, suitable for all levels! 
Above all, it is a leisurely pace, perfect for observing the beauty of the landscape, whether it be coastal or forest! Cycling is also a form of freedom, you can take your time, you are your own guide, you can choose the routes and picnic breaks… In short, cycling is the ideal partner for a sporting, cultural, gourmet and even historical holiday!
For an optimal cycling holiday, and greater freedom, it is important to have cycle paths from the campsite. To be adapted to the great sportsmen, to the supporters of the ecological transport during the holidays, or simply to the walkers. For the more adventurous, you can hire bikes directly from the campsite reception! 
Most of the Chadotel campsites have a cycle track at the exit, so you can enjoy a pleasant ride during your holiday. The Dune des Sables campsite in Les Sables d'Olonne, the Océano d'Or in Jard-sur-Mer, the Bahamas Beach and the Domaine de Beaulieu in Saint-Gilles-Croix-de-Vie and the Trévillière in Brétignolles-sur-Mer in the Vendée have the "Accueil Vélo" label. This label certifies that the campsite has facilities adapted to cyclists, a warm welcome and services dedicated to travellers by bike, all within easy reach of a cycle path.